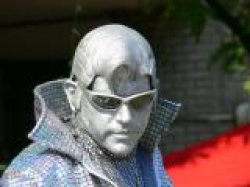 Busker Festival
Welcome to the wacky and wonderful world of BuskerFest. For four days, every August, a collection of the highest skilled and most entertaining street performers gather in the St. Lawrence market to bring the thrill of world class street theatre to Torontonians. Buskers are gutsy street performers who fly by the seat of their pants - sometimes literally! They boldly take their astonishing talent right into the audience where spectator participation ensures every show is just a little different. Witness some of the most energetic and creative entertainment imaginable - from the magical art of transforming chunks of candy into intricate dragons, to the high-flying antics of pogo acrobatics, to the bizarre culinary spectacle of a bologna sandwich being prepared... by foot! With their quick wit and stunning acts of the incredible, these performers know how to draw a crowd.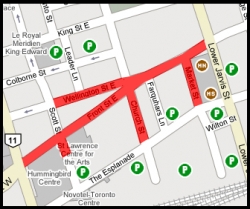 SCHEDULE
Thursday August 21st, 2008 12:00 p.m. - 10:00 p.m.
Friday August 22nd, 2008 12:00 p.m. - 11:00 p.m.
Saturday August 23rd, 2008 11:00 a.m. - 11:00 p.m.
Sunday August 24th, 2008 11:00 a.m. - 8:00 p.m.
LOCATION
FRONT STREET:
Between Church and Jarvis, adjacent to the St. Lawrence Market. Includes Market Lane, Market Square, and Berczy Park.