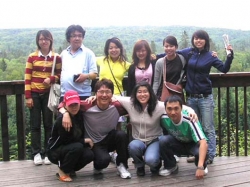 August 25&26, 2007
Went camping in Huntsville with some Korean and Japanese students.
Stayed in a cottage and went canoeing, had a BBQ Party, and made a camp fire. Ate a lot, talked a lot, and laughed a lot.
Some leaves in trees were already turning red and yellow
up there. Summer is almost gone, and fall is just around the corner.