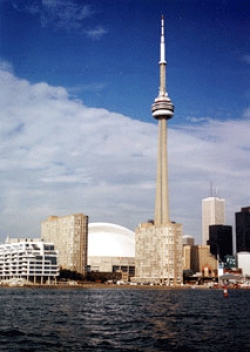 Defining the Toronto skyline, the CN Tower is Canada's most recognizable and celebrated icon. At a height of 553.33m (1,815 ft., 5 inches), it is Canada's National Tower, the World's Tallest Building, an important telecommunications hub, and the centre of tourism in Toronto.
Each year, approximately 2 million people visit the CN Tower to take in the breath-taking view and enjoy all the attractions it has to offer.
The CN Tower was built in 1976 by Canadian National (CN) who wanted to demonstrate the strength of Canadian industry by building a tower taller than any other in the world. In 1995, the CN Tower became a public company and ownership of the Tower was transferred to Canada Lands (CLC) Company, a federal Crown corporation responsible for real estate development.
Although the CN Tower inspires a sense of pride and inspiration for Canadians and a sense of awe for tourists, its origins are firmly rooted in practicality. The construction boom in Toronto in the 1960's transformed the skyline characterized by relatively low buildings into one dotted with skyscrapers. These new buildings caused serious communication problems. With its microwave receptors at 338 m (1,109 ft.) and 553.33m (1,815 ft., 5 inches) antenna, the CN Tower swiftly solved the communication problems with room to spare. As a result people living in the Toronto area now enjoy some of the clearest reception in North America.
The CN Tower is situated on Front Street which is located in the heart of the Entertainment District. The CN Tower is easily accessible from Union Station as well as many major streets and highways. For a broader sense of the CN Tower's location, it is located on the north shore of Lake Ontario.
While visiting the CN Tower, guests not only enjoy the amazing view, but the many great attractions available. With 4 lookout levels the view of Toronto just gets better the higher you go.
Located at a height of 342m (1,122 ft) you will find the Glass Floor and Outdoor Observation Deck.
At 346 m (1,136 ft.) is Horizons Café and the Indoor Observation Deck. Horizons Café offers casual dining for those looking to enjoy a light meal at the top of the world.
360, our award winning fine dining restaurant is located at 351 m (1,150 ft.) and offers guests a complete 360 degree view of the city. The floor in the 360 Restaurant rotates once every 72 minutes allowing you a complete and unobstructed view of the city below. Along with the view 360 also offers an internationally recognized wine cellar of nearly 500 choice labels. Be sure to take a moment to enjoy the artwork located throughout 360, all is provided by the Art Gallery of Ontario and is available for purchase at the gallery.
Think you're high enough now. Think again. Sky Pod, the World's Highest Public Observation Deck is located at a dizzying 447 m (1,465 ft.).
For those looking for thrills the CN Tower measures up! Located at the base guests will find our arcade, motion theatre ride and The Height of Excellence.
It is the near future and in this motion ridefilm mankind faces environmental disaster through years of over- harvesting the forests. But scientists have developed a "Super-Tree" that quickly generates desperately needed wood and life-giving oxygen. Super-Trees are grown in a simulated "super world" called "Himalamazon", where a uniquely developed combination of the attributes of the Himalayas and the Amazon has been created. Experience the thrill of this motion theatre ride, complete with special effects – feel the wind and water as you join one of these Super-Trees on it's journey from seed to harvest ... it is a spectacular ride as a Super-Tree careens down ravines and through caves to the harvesting plant.
* Height restrictions apply – must be 107 centimetres (42 inches)
Need a rest? Why not enjoy "The Height of Excellence" a 20 minute documentary of the building of the engineering marvel that is the CN Tower.
Still looking for more? Be sure to experience our Marketplace with 10,000 square feet of retail space. Here's the place to get one-of-a-kind CN Tower souvenirs, sports merchandise and authentic Canadian items.
| | | |
| --- | --- | --- |
| Tower Hours | Sunday - Thursday | Friday - Saturday |
| General Access | 9:00 am - 10:00 pm | 9:00 am - 10:30 pm |
| | | |
| --- | --- | --- |
| Observation Levels | Sunday - Thursday | Friday - Saturday |
| Look Out | 9:00 am - 10:00 pm | 9:00 am - 10:30 pm |
| Glass Floor | 9:00 am - 10:00 pm | 9:00 am - 10:30 pm |
| Sky Pod | 9:00 am - 10:00 pm | 9:00 am - 10:30 pm |
please visit
www.citypass.com
or onsite at a CN Tower box office.