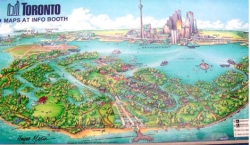 There are three main islands - Centre Island, Ward's Island and Muggs Island - just off Queens Quay Terminal that are easily accessible by ferry boats (Call 392-8193 for schedules) that run every 20 minutes. Day trippers can take their bikes, a picnic lunch, tennis rackets (there are public courts) and bathing suits (or not! There is now a city sanctioned nude beach on the north side of Centre Island). There are three yacht clubs on the islands, a children's park and zoo, beaches, parks, outdoor barbeques and quite a few little fast food
spots if you didn't pack a sandwich or two. There is also a small community of 275 permanent homes here that tolerates their day-guests with polite resignation. Just don't knock on their door to ask directions to the nude beach.
Only a 10-minute ferry ride from the foot of Yonge Street, the Toronto islands offer a panoramic view of the city skyline. Centre Island offers miles of parkland with beaches, barbecues and picnic tables, boat rentals, bicycle paths, a children's farm and even an amusement park.
The Toronto Ferry Docks is located at the foot of Bay Street and Queens Quay, just West of the Westin Harbour Castle Hotel.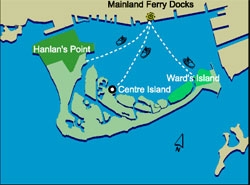 | | |
| --- | --- |
| Spring | April 13th, 2007 - May 25, 2007 |
| Summer | June 1st, 2007 - Sept 3rd, 2007 |
| Spring | Sept 4th, 2007 - Oct 10th, 2007 |
| Spring | Oct 11th, 2007 - April 12, 2008 |
Fares (Include Return)
Adults
Studenta and Seniors
(under 19 with Student Card
and over 65)
Juniors
(under 14)
Children
$6
$3.5
$2.5
Free