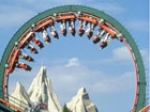 Canada's Wonderland is Canada's premier amusement park and features over 200 attractions, more than 65 thrilling rides, North America's greatest variety of roller coasters, and Splash Works, a 20-acre water park.
Canada's Wonderland is the home to the most exhilarating collection of rides and roller coasters in all of Canada! With Canada's Longest Wooden Coaster - The Mighty Canadian Minebuster, Canada's First Inverted Coaster - Flight Deck and Canada's Only Flying Coaster - Time Warp, North America's largest variety of coasters can be found here! If roller coasters aren't your game, test your level of thrill being spun 360 degrees on Riptide, free falling 230 feet on Drop Tower, or be courageous enough to catch some 120 foot hang time on Psyclone.
Xtreme Skyflyer
is Canada's largest free-fall swing. On Xtreme Skyflyer riders control their own ride experience by pulling the rip cord and initiating a 170-foot power flight that takes riders through a breathtaking pendulum swing, soaring a mere six feet above the ground! Drawing its inspiration from skydiving, riders will experience weightlessness and speeds of more than 100km/hr.
 
On The Bat, riders are pulled backwards and launched through an unyielding corkscrew and a breathtaking loop. After one trip through The Bat's intense, tight track, riders have little time to catch their breath when The Bat climbs its second launch to take riders through one more time Backwards!

The Mighty Canadian Minebuster is the largest and longest wooden coaster in Canada. Its immense wooden track is full of side-winding turns, stomach lifting camel humps and breath-taking drops. The Minebuster reaches astounding speeds of more than 90km/h on its 4000 feet of serpentine designed track.

On Drop Tower, riders sit on a high-speed transport lift that travels over 16 feet per second, 230 feet in the air. At the top of the tower, guests have but moments to take in the panoramic view of the Park before it registers that what goes up must come down. Free falling at more than 100km/h, 23 stories flash by as the ground races up and catches riders in a silent, smooth stop.


Hours of Operation

| | | |
| --- | --- | --- |
| Park Hours | Monday - Thursday | Friday - Sunday |
| General Access | 10:00 am - 6:00 pm | 10:00 am - 8 or 10 pm |
Hours of operation is updated every week.
Please visit
http://www.canadaswonderland.com/visit/visit_calendar.cfm
for hours of operation


Purchase Ticket
please visit www.canadaswonderland.com or onsite at a Wonderland's box office.