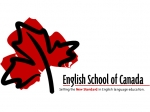 When students arrive at the English School of Canada
(ESC)
, the first thing that they notice is that
ESC
is different. At ESC,
they
take the time to discuss and understand your need
s
.
They
know that you are coming to Canada to improve your English language skills, and
there
goal is to help you meet that objective.
When you arrive at ESC, you will meet the directors and have a personal orientation tour of the school. Then
they
work with you to assess your personal needs and objectives -
on the first day of school,
you will complete a skills assessment test, and
they
will recommend a program and class schedule to ensure that you can meet your personal goals.
Learning English includes practicing your skills outside of the classroom.
ESC's
additional Educational Services are provided so that your learning continues even after your classes.
Also their flexibility of various program selections you will never get bored!!!
Small Classes
The Student Multi-Media Centre
English CD-ROM materials for self-directed study
pronunciation audio tapes for self-directed study
Library and Daily Newspaper Special guest speakers& learning workshops
Free English film & movie screenings
Keyboarding & typing lessons
Evening classes & conversation club
Resume works, editing and proofreading service