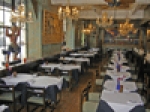 Type: Thai

Location: Church x Richmond
Over the years Golden Thai has been lauded with plenty of good reviews from the local press and have often won the Readers' polls in Now Magazine, Eye Weekly, and the Toronto Sun.
Their
executive chef Kiem Thung draws on 30 years experience to create over 90 flavorful dishes. From luscious Thai curries, to spicy sweet basil dishes, to tangy tamarind sauces, to zesty ginger stir fries it is obvious why Kiem's kitchen deserves the following it has gained.
Monday - Friday

11:30

am - 10pm

Saturday

5

pm - 11pm

Sunday

5p

m - 10pm
416-868-6668
http://www.goldenthai.ca/goldenthai_home.html